Best As and A level Biology notes
The Best Biology AS and A Level  Notes, Revision Guides, Tips and Websites compiled from all around the world at one place for your ease so you can prepare for your tests and examinations with the satisfaction that you have the best resources available to you.
Cambridge International AS and A Level Biology builds on the skills acquired at Cambridge IGCSE (or equivalent) level. The syllabus includes the main theoretical concepts which are fundamental to the subject, a section on some current applications of Biology, and a strong emphasis on advanced practical skills. Practical skills are assessed in a timetabled practical examination.
The emphasis throughout is on the understanding of concepts and the application of Biology ideas in novel contexts as well as on the acquisition of knowledge. The course encourages creative thinking and problem-solving skills which are transferable to any future career path. Cambridge International AS and A Level Biology is ideal for learners who want to study Biology or a wide variety of related subjects at university or to follow a career in science. Please note that the Scheme of Assessment has changed since 2005.
Cells
Cell Structure
1)Magnification
Living things are composed of Cells. Cells are very small (ususally between 1 and 100 μm) and can only be seen by magnification with a microscope. A distinction is made between Magnification and Resolution: Magnification is how large the image is compared to real life, whereas Resolution is the amount of information that can be seen in the image – defined as the smallest distance below which two discrete objects will be seen as one.
To work out the size of an object viewed with a microscope, a Graticule is used. It is a small transparent ruler that becomes superimposed over the image. As the same sample may look to be different sizes under different magnifications, the Graticule must be calibrated.
Actual Size, Image Size and Magnification are related by the formula:
Image Size = Actual Size × Magnification
The Light Microscope
Light Microscopes, or Optical Microscopes, as they are more correctly termed, use light and several lenses in order to magnify a sample. Light from the Condenser Lens, and then through the Specimen where certain wavelengths are filtered to produce an image. The light then passes through the Objective Lens, which focuses it and can be changed in order to alter the magnification. Finally, the light passes through the Eyepiece Lens, which can also be changed to alter the magnification, and into the eye.
The maximum magnification of light microscopes is usually ×1500, and their maximum resolution is 200nm, due to the wavelength of light. An advantage of the light microscope is that it can be used to view a variety of samples, including whole living organisms or sections of larger plants and animals. It is also relatively inexpensive.
There are two types of light microscope. Compound Microscopes contain several lenses and magnify a sample several hundred times. Dissecting Microscopes on the other hand have a low final magnification but are useful when a large working distance between the objectives and the stage is required (e.g. during dissection). They have two eyepieces to produce a 3D stereoscopic view.
Many specimens require preperation before being viewed by a light microscope, as some may not be coloured or might distort when cut. Samples are Stained with coloured stains that bind to certain chemicals or cell structures. For example, Acetic Orcein stains DNA dark red. Samples may also be Sectioned – embedded in wax; this helps with preserving structure while cutting.
The Electron Microscope
Light microscopes are great and all, but sometimes their (relatively) low magnification and resolution are insatisfactory for viewing very small things, like Organelles within cells. In these circumstances, and Electron Microscope may be used. Electorns have a much lower wavelength than light (100000 times shorter in fact, at 0.004nm) which means that they can be used to produce an image with resolution as great as 0.1nm. Electron Microscopes can have magnifications of ×500000.
There are different types of Electron Microscope. A Transmission Electron Microscope (TEM) produces a 2D image of a thin sample, and has a maximum resolution of ×500000.
A Scanning Electron Microscope (SEM) produces a 3D image of a sample by 'bouncing' electons off and dectecting them at multiple detectors. It has a maximum magnification of about ×100000.
The preparation of a sample for electron microscopy is a complex process. It may involve

Chemical Fixation: Stabilising an organism/sample's mobile macrostructure
Cryofixation: Freezing the sample very rapidly to preserve its state
Dehydration: Removing the water form a specimen, for example, by replacing it with ethanol
Embedding: Embedding in resin, ready to be sectioned
Sectioning: Cutting the sample into thin strips that are semitransparent to electrons, for example with a diamond knife
Staining: Using heavy metals to scatter electrons and produce contrast
Freeze Fracturing: Freezing the sample rapidly, and then fracturing it, for example, when viewing cell membranes
Mounting: Placing the sample on a copper grid
It is advantageous to use an Electron Microscope in many situations because they offer a much higher resolution that Light Microscopes, so they can be used to image very small objects in detail, and also because of the 3D images that SEMs offer. However, samples must be placed in a vacuum as electrons are deflected by particles in the air, they are very expensive to buy and maintain, and preparing the samples requires a lot of skill to do.
Organelle Structure and Function
Organisms are composed of cells, and these cells have specific structures within in them that allow them to carry out their functions. These structures are called Organelles. The fine detail of the cell (which may be revealed by an electron microscope) is called the cell's ultrastructure. Organelles perform different functions within a cell, and this is called the Division of Labour.
Membrane Bound Organelles
The Nucleus is the largest organelle in a cell. It contains a dense structure called the Nucleolus and is surrounded by the Nuclear Envelope, a structure composed of two membranes, seperated by fluid, which contain a number of nuclear pores that can allow relatively large molecules through. The nucleus contains nearly all of the cell's genetic material. The Nucleolus creates Ribonucleic Acid and Ribosomes, which then travel out of the nucleus, through the nuclear pores, to the cytoplasm where they are involced in Protein Synthesis.
The Endoplasmic Reticulum (ER) is found near the Nucleas and is made up of a number of flattened sacs called Cisternae, which are continuous with the Nuclear Envelope. The Rough Endoplasmic Reticulum is called so because it has a lot of Ribosomes on its outer surface. The Smooth Endoplasmic Reticulum however, does not have Ribosomes. The Rough transports proteins that are synthesised in the Ribosomes, and the Smooth synthesises Lipids.
The Golgi Apparatus is a stack of membrane bound flattened sacs, and are responsible for the modification of proteins received from the ER. These proteins are then transported in vesicles around the cell.
Lysosomes are membrane bound spherical sacs which contain digestive enzymes used to break down materials, such as non-self microorganisms engulfed by Phagocytes.
Mitochondria are round double membrane bound organelles responsible for Aerobic Respiration. Their inner membrane is folded inside to form Cristae, which are folded in the Matrix – the central part of a Mitochondrion. During Aerobic Respiration, ATP is produced in the Mitochondria.
Found only in plants and some protoctists, Chloroplasts are responsible for Photosynthesis. Chloroplasts contain two fluid separated membranes and the inner membrane is folded into a network of flattened sacs called Thylakoids that are stacked into Grana (one Granum, two Grana). The Thylakoids contain Chlorophyll in which the process of Photosynthesis occurs.
Vesicles are membrane bound sacs that are used to store or transport substances around the cell. Lysosomes are actually Vesicles.
Vacuoles are essentially larger Vesicles, and they are formed by the joining together of many Vesicles. They are membrane bound organelles that have no specific shape and contain water with a number of different compounds within it. Their function varies greatly depending on the type of cell they are part of. In plant cells they are important in maintaining Turgor Pressure.
Non Membrane Bound Organelles
Ribosomes are small spherical organelles, composed of two subunits, which can be found on the Rough Endoplasmic Reticulum (and also in the cytoplasm and in mitochondria, and other places). Ribosomes translate genetic information in the form of mRNA into proteins.
Centrioles are microtubules found next to the nucleus of animal cells and some protoctists. They move Chromosomes around by forming fibres called Spindle, during cell division.
Organelles Working together
In order for cells to function and survive, their organelles work together to carry out specific tasks and perform specific roles. Each organelle has its own role that contributes to the survival of the cell. This is called the Division of Labour.
The Cytoskeleton
The Cytoskeleton of a cell consists of a network of protein fibres that give the cell stability and allow it to move. In Eukaryotic Cells, the proteins are arranged as microfilaments (small solid strands) and microtubules (very small protein cylinders).
The Cytoskeleton provides an internal framework for the cell, which preserves its shape and holds its organelles in position.
Part of the Cytoskeleton, fibres called Actin Filaments, are similar to the fibres found in muscle cells and they are able to move against each other. They are responsible for the movement of some of the organelles and also the movement and change in shape of White Blood Cells.
Undulipodia, Cilia and Flagella
Another part of the Cytoskeleton, fibres called Microtubules, use energy in the form of ATP to drive movements to perform various functions. These are made of a protein called Tubulin. Proteins present on some Microtubules, called Microtubule Motors, move organelles, and other cellular content, along the fibres. This is the mechanism for the transport of vesicles from the Rough Endoplasmic Reticulum to the Golgi Apparatus and the movement of Chromosomes during Mitosis.
The Cytoskeleton is also responsible for the movement of the cell though its environment, or the movement (or "wafting") of part of its environment past the cell. This is done by the organelles Undulipodia, Cilia, and Flagella.
In Eukaryotic Cells, Undulipodia (sometimes incorrectly called Flagella, which are actually only present in Prokaryotic Cells) and Cilia are responsible for this movement. They are both structurally similar; they hair-like structures composed of an outer membrane bounding a ring of nine pairs of Microtubules with a single pair in the centre.
Undulipodia are longer than Cilia and usually occur in ones and twos, whereas cilia are often found in large numbers. A sperm cell moves because it has a long tail. This is an Undulipodium. Cilia are responsible for the movement of mucus past ciliated epithelial cells.
Undulipodia and Cilia are able to move because the Microtubules within them use ATP to try to slide over one another (with the use of Dynein 'arms' – Motor Proteins). Because they are attached to the base, this causes the structure to bend.
Some Prokaryotic Cells have Flagella, which look similar to Undulipodia, but have a very different internal structure. They are made of Flagellin, a spiral of protein that attaches to a disk at the base. When this rotates, using energy from ATP, the Flagellum spins, propelling the cell.
Protein Synthesis
A good example of the Division of Labour is in Protein Synthesis.
The instructions to create a particular protein are found in a Gene in the DNA of a cell. So as to prevent damage to the DNA, when a protein is required to be synthesised, a copy of that particular gene is encoded onto an mRNA (messenger RNA) molecule. This is called Transcription. The molecule then leaves the nucleus through a Nuclear Pore.
The mRNA molecule then travels to a Ribosome, which may be located on the Rough Endoplasmic Reticulum, or in the Cytoplasm. There the sequence of Amino Acids is read and the instructions are Translated to a Polypeptide Chain.
The next stage is called Post Translational Modification. This is where the Polypeptide Chain is modified to create the final protein, for example, by adding Prosthetic Groups. This may done in the Rough Endoplasmic Reticulum or in the Golgi Apparatus.
When the protein moves from the Rough Endoplasmic Reticulum, it does so in Vesicles, which are 'pinched off' from the ER and then fuse with the Golgi Apparatus.
In the final stage of protein synthesis, the newly created protein is transported around the cell, again in Vesicles. Sometimes, the Vesicle may fuse with the Plasma Membrane and secrete the protein.
2)Cell Membranes
Biological membranes
All cells in nature are surrounded by Biological Membranes, which all have the same basic structure. Some organelles found in Eukaryotic Cells also have membranes.
Membranes separate their contents from the environment. Cell membranes separate the cell contents from its environment, and organelle membranes separate the organelle contents from their environment. Membranes regulate the movement of materials through them. For example, cell membranes might not allow starch molecules to leave the cell.
Cell membranes are also involved in cell communication and recognition, and in holding some components of metabolic reactions in place.
The Phospholipid Bilayer
All Biological Membranes are made of the same basic structure. This is composed of molecules called Phospholipids, which form a Phospholipid Bilayer.
Phospholipids are fats. They are composed of two Fatty Acid 'tails' and a Phosphate 'head'. The Phosphate 'heads' are Hydrophilic whereas the Fatty Acid 'tails' are Hydrophobic, meaning that Phospholipids are Amphipathic.
When placed in water, the 'heads' orientate themselves towards water molecules and the 'tails' away, meaning that phospholipids will form a layer above water if left. If Phospholipid Molecules are completely surrounded by water, they may form a Bilayer.
A Phospholipid Bilayer consists of two layers of Phospholipids where the 'tails' point inwards and the 'heads' point outwards, towards water. One layer is like a mirror image of the other.
The Phospholipid Molecules are not bonded together, however, their Amphipathic Nature gives the Bilayer a degree of stability, since the Hydrophilic 'head' cannot easily through the Hydrophobic region created by the 'tails'. The molecules can however move freely as a fluid in the plane of the Bilayer.
Small, non-polar molecules can pass through the Phospholipid Bilayer since they can 'squeeze' between the Phospholipid Molecules and are not repelled by the hydrophobic region. Water molecules can also move through the Bilayer, despite being polar.
The Fluid Mosaic model
Biological Membranes are very small (7-10nm). At this size it is very hard to see the exact structure, even with an electron microscope. We therefore don't know for sure exactly what's going on, however, the Fluid Mosaic Model is generally accepted as describing how membranes are arranged.
The Fluid Mosaic Model states that membranes are composed of a Phospholipid Bilayer with various protein molecules floating around within it. The 'Fluid' part represents how some parts of the membrane can move around freely, if they are not attached to other parts of the cell. The 'mosaic' part illustrates the 'patchwork' of proteins that is found in the Phospholipid Bilayer.
Some proteins in the membrane are called 'Intrinsic'. This means that they completely span the Bilayer. Others are called 'Extrinsic' – they are partly embedded in the Bilayer.
Membrane Components
Carbohydrate Polymers may attach to parts of the membrane, forming Glycolipids when attach to Phospholipid Molecules and Glycoproteins when they attach to proteins. Both Glycolipids and Glycoproteins can act as Cell Receptor Sites. Hormones may bind to them, as may drugs, to instigate a response within the cell. They may also be involved in Cell Signalling in the Immune System.
Some Intrinsic Proteins are Channel Proteins. These are Transport Proteins that allow the movement of molecules that are normally too large or too Hydrophilic to pass through the membrane by forming a tube-like structure that goes through the whole membrane.
Other Transport Proteins are Carrier Proteins. These use energy in the form of ATP to actively move substances across the membrane. For example, ions in the soil are actively transported in the root hair cells of plants.
Enzymes and Coenzymes may be attached to part of the membrane in order to carry out Metabolic Reactions. Mitochondria have infoldings of the membrane (called Cristae) containing Enzymes which are partly responsible for Aerobic Respiration.
The Steroid Molecule Cholesterol gives the Plasma Membrane in some Eukaryotic Cells stability by reducing the fluidity and making the Bilayer more complete.
Membranes and Heat
Increasing temperature increases molecular kinetic energy. This means that the Phospholipid Molecules in the Bilayer vibrate more and so are more unstable. This makes the membrane more 'leaky', as it will allow more molecules through that wouldn't normally be able to. Once a certain temperature has been reached, the membrane breaks.
Some organisms however have adapted to live in environment with extreme temperatures, and so have membranes that are more resistant to heat. One way of increasing resistance to heat is by increasing the amount of Cholesterol in the membrane.
Cell signalling
Cells need to interact with their environment and other cells around them. This is called Cell Signalling. Single cellular organisms need to detect nutrients in their environment, and cells in multicellular organisms are involved in a complex system of communication with each other.
Cells detect signals with Cell Receptors on their plasma membrane, which are usually Glycoproteins or Glycolipids. The signalling molecule binds to the Repeptor because its shape is complementary. This then instigates a chain of reaction withing the cell, leading to a response.
Cell Signalling Pathways can be categorised based the distance over which the signalling occurs.

Endocrine Signalling involves signalling over large distances, often where the signalling molecule is transported in the circulatory system
Paracrine Signalling occurs between cells which are close together, sometime directly, sometimes via extracellular fluid
Autocrine Signalling is where the cell stimulates a response within itself by releasing signals for its own Receptors
Hormones are often used as cell signalling molecules in multicellular organisms. Hormones are produced in a cell, sometimes in response to environmental changes. The Hormones are are released and bind to Receptor Sites on a Target Cell, which starts a response.
An example of a hormone mediated cell signalling pathway is in the use of Insulin to lower blood glucose levels. In response to high glucose levels, Beta-Cells in the pancreas release the hormone Insulin in to the blood, which binds to cells such as muscle and liver cells. This causes them to take up more glucose.
Some Medicinal Drugs work because they are complementary to certain Cell Receptor Sites. Some drugs block these Receptors so that they natural signalling molecules cannot instigate a response. Others are designed to mimic natural signalling molecules that the body cannot produce, such as drugs to treat some mental conditions.
Viruses invade cells by binding to Cell Receptor Sites that are normally used in cell signalling. They themselves have Receptor Sites, despite not being cells. Some poisons also bind to Cell Receptors, preventing the targeted cells from working properly.
Crossing Membranes
ubstances need to move around the body of an organism. To do this they must cross Biological Membranes. There are a number of ways in which this may happen.
Passive Transport
When placed in a system, a substance will tend to even out – it will move from a region of high concentration to a region of low concentration. This is called Diffusion. Within a system, each molecule has its own Concentration Gradient, and therefore will Diffuse irrespective of other molecules.
Whenever Diffusion occurs, molecules will always be moving in both directions, but it there is a Concentration Gradient, their Net Movement will be towards the region of low concentration.
Substances can be transported across Biological Membranes by Diffusion. In cells, a number of processes may ensure that the Concentration Gradient is maintained and the Equilibrium is not met. Useful substances are constantly being used up and waste products are constantly being produced.
Lipid based molecules are able to diffuse across Biological Membranes unaided, since they are Hydrophobic, and are not repelled by the Phospholipid 'heads'.
Very small molecules are small enough to pass through the Phospholipid Bilayer, even if they are charged. Water can diffuse in this way, as can Carbon Dioxide and Oxygen.
Some charged molecules normally are unable to pass through Biological Membranes since they are repelled by the Hydrophobic Phosphate 'heads'. However, special Proteins, called Channel Proteins, provide pores though which these molecules can diffuse. These Proteins are often shaped in such a way as to only allow certain molecules to pass through.
Larger molecules, like Glucose, are too big to diffuse through the Phospholipid Bilayer unaided. These require special Proteins in the Membrane called Carrier Proteins. Once a specific molecule collides with the Carrier Protein, it 'flip flops' carrying the molecule to the other side of the membrane.
Active Processes
Sometimes substances are required to be moved against the Concentration Gradient, or faster than they would by Passive Transport. For example, plants need to take up Magnesium Ions in their roots against the Concentration Gradient. In these cases, Active Processes are used, which require energy.
Active Transport
Active Transport involves the movement of molecules across a Membrane using Proteins in the Bilayer similar to Carrier Proteins. These use energy in the form of ATP to 'pump' molecules in one direction across a membrane.
The Carrier Proteins involved in Active Transport are Complementary to the molecule they transport. Once the molecule collides with the Protein, it is transported across the membrane and released the other side. It cannot then be transported back since the Carrier Protein is no longer Complementary to it.
Active Transport means that a substance can move against the Concentration Gradient and at a much faster rate than Diffusion alone.
Bulk Transport
Bulk Transport involves the movement of large amounts of molecules across a membrane. For example, cells that produce Hormones in large quantities transport them out in bulk. This is done via the movement of Vesicles within the cell, which can easily fuse of be 'pinched off' from a membrane.
The movement of substances into a cell is called Endocytosis, and the movement of substances out of a cell is called Exocytosis. The prefixes 'phago' and 'pino' can be used to donate the movement of solid and liquid material respectively.
Energy, in the form of ATP, is used in the movement of Vesicles around the cell and fusion with, and pinching off from, the membrane.
Osmosis
Osmosis is the diffusion of water through a Partially Permeable Membrane. It is a special case of Diffusion in that the concentrations of Solutes in the water can effect how it occurs.
Since water is a Polar molecule, many substances dissolve in it. These dissolved substances are termed Solutes, and water is a Solvent. Water molecules cluster around molecules of a Solute.
Because some water molecules cluster around a Solute when it is dissolved, there are less 'free' molecules which can diffuse to other areas. This effectively lowers the concentration of water.
Water Potential measures the concentration of free water molecules. It is a measure of the tendency of these molecules to diffuse to another area. The more free water molecules, the higher the Water Potential.
Water diffuses by Osmosis from a region of high Water Potential to a region of low Water Potential through the Water Potential Gradient. Osmosis can therefore be defined as the diffusion of water from a region of high Water Potential to a region of low Water Potential through a Partially Permeable Membrane.
Water Potential is measured in kiloPascals (kPa), where the Highest Water Potential (that of pure water) is 0 kPa and lower Water Potentials go into negative numbers.
Osmosis and Cells
Since cells contain various Biological Molecules, such as Sugars and Salts, they have a Water Potential lower then 0 kPa. Water may move in or out of a cell depending of the Water Potential Gradient between the inside of the cell and its environment.
When water diffuses into a plant cell, when it is placed in a solution of higher Water Potential than inside it, the cell contents will expand. However, since plant cells are surrounded by a strong cell wall, they will not burst. The cell contents will push against the cell wall, and the cell will become Turgid.
If a plant cell is placed in a solution of lower Water Potential, water will diffuse out. This causes the Cytoplasm to shrink and become Flaccid. If enough water leaves, the Cytoplasm will pull away from the cell wall. The cell will become Plasmolysed.
Animal cells will also expand when they are placed in a solution of higher Water Potential. Since animal cells do not have cell walls, if this happens excessively the cell will burst open and become Haemolysed.
If water leaves an animal cell by Osmosis, it will shrink and appear 'wrinkled'. It will become Crenated.
3)Cell Division, Diversity and Organisation
Eukaryotic Cellular Division Process
very cellular organism uses the process of Cellular Division. This is where genetically identical daughter cells are produced from parent cells. The daughter cells must be able to carry out the same functions as the parent cell.
The Cell Cycle is the series of events in which a parent cell divides to produce identical daughter cells which then grow to full size. This may in fact be the whole Life Cycle of the organism, if it is a single-celled organism.
Cellular Division occurs for:

Asexual Reproduction: Single-celled, and sometimes multicellular organisms (through budding) reproduce by dividing.
Growth: Cells are produced so that multicellular organisms can grow.
Replacement: Any cells in multicellular organisms that have been worn out or have been damaged need to be replaced by cellular division
Eukaryotic Cell Cycle
In Eukaryotes, the cell cycle is divided in Interphase, where the cell readies itself for division, and Mitosis, where the process of division occurs. Interphase takes up the majority of the cell cycle. Meiosis can sometimes occur instead of Mitosis.
Interphase
Interphase can be divided into 3 discrete stages:

G1: Gap Stage 1
S: Synthesis Stage
G2: Gap Stage 2
During Gap 1, the cell functions normally and protein and organelle synthesis occurs such that the cell doubles in size. The extra proteins and organelles mean that both daughter cells will be able to function the same as their parent cell.
In the Synthesis Stage, DNA is replicated. This is done by Semi-conservative Replication, and produces two identical copies of each Chromosome.
Chromosomes are wrapped around proteins called Histones in Eukaryotes, and together with these proteins, Chromosomes are called Chromatin. After DNA replication has occurred, two identical Chromosomes, called Sister Chromatids are formed held together at a point termed the Centromere.
When DNA replication happens, it is checked for any incorrect copying which may result in mutations that stop the new cell working.
During Gap 1, more growth occurs and proteins are rapidly synthesised in preparation for Mitosis.
Mitosis
The process of Mitosis can be described as happens in 4 phases: Prophase, Metaphase, Anaphase and Telophase. Most animal cells are capable of Mitosis, whereas only Meristematic cells in plants are capable of Mitosis.
The first phase, Prophase, involves the Supercoiling of the Chromosomes. They shorten and thicken such that it is now possible to see them using a light microscope.
In animals, an organelle called the Centriole divides in two and begins to form protein threads called Spindle Fibre. In plants, Tubulin Protein Threads are made in the Cytoplasm. This will attach to the Centromeres on the Sister Chromatids. The Nuclear Envelope also disappears.
In Metaphase, the Chromosomes line up towards the centre of the cell, held by the Spindle Fibre.
During Anaphase, the Spindle Fibres contract, which separates the Sister Chromatids so that one goes to each end of the cell. They do this pulled by the Centromere, giving them a 'V' shape.
Finally, in Telophase, the Spindle Fibres break down and a Nuclear Envelope forms around the two sets of Sister Chromatids at each end of the cell. The Chromosomes uncoil so that they are no longer visible to a light microscope.
The cell now splits in two in a process called Cytokinesis. In animals cells this starts from the outside, with the membrane 'nipping in'. However, in plants, a cell plate first forms to slit the cell in two, and cell membrane and wall material is laid out along this plate.
More About Cellular Division
Cellular Division is vital to all life on earth. It is used in a number of ways throughout the natural world, and also by humans.
Clones
Clones are Genetically Identical Cells or Organisms that are derived from one parent. The offspring of an organism that reproduces Asexually (only one parent) are Clones.
Eykaryotic Cells that undergo Mitosis are Clones of the parent cell. It may be that the organism is single-celled, such as an Amoeba, in which case Mitosis is the means of Asexual reproduction.
Many plants can produce Clones, reproducing Asexually. For example, strawberry plant runners or plants of the genus Kalanchoe. This is known as Vegetative Propagation. Many plants that can reproduce in this way can also reproduce Sexually.
Bacteria reproduce by Cloning, through a process known as Binary Fission, which is different from Mitosis. Mitosis refers to division involving Chromosomes, and Bacteria do not contain Chromosomes. Instead, they have a single, naked DNA strand in the Cytoplasm. They also have extra DNA in the form of Plasmids, which can be swapped with other bacteria.
Artificial Cloning is the process by which humans force the Asexual reproduction of organisms to produce Clones. Plants may be Artificially Cloned by growers to produce Genetically Identical Individuals. Since 1997, it has also been possible to Clone animals. This however raises many ethical issues.
Budding in Yeast
Yeast are single-celled fungal organisms that are Eukaryotes. They most commonly reproduce Asexually by Mitosis, but the process is slightly different from other forms of Mitosis, in that it involves Budding.
When the cell first begins to reproduce, a Bud is formed of the surface of the cell. The cell then proceeds through Interphase, duplicating its Chromosomes and Organelles.
Next the Yeast cell undergoes Mitosis, where the new Chromosomes and DNA are placed in the Bud. After this occurs, the Bud contains nucleus with an identical copy of the parent cell's DNA.
Finally, the Bud separates from the parent cell, producing a new Yeast Cell that is Genetically Identical to its parent Cell.
Producing Genetically Different Cells
Many organisms reproduce Sexually, where half of the offspring's DNA comes from one individual, and half comes from another.
This involves the fusion of nuclei from two cells which contain half the Genetic Information of a normal cell. These cells are known as Haploid Cells. When they come together during Sexual reproduction, they produce a cell with a full set of Genetic Information, known as a Diploid Cell.
Almost all cells in a Eukaryotic organism are Diploid, containing a full set of Genetic Information. They contain a full set of pairs of Homologous Chromosomes (there are 23 pairs of Homologous Chromosomes in normal human cells).
Each Chromosome in a Homologous Pair contains the same Genes, but can contain different Alleles of these genes. One Chromosome comes from the father and one from the mother of the organism.
In order to produce Haploid Cells, which only contain one Chromosome of every Homologous Pair, a cellular division process called Meiosis occurs. Effectively, a parent cell divides into two daughter cells, giving one of its Chromosomes in every one of its Homologous Chromosome Pairs to each of its daughter cells.
The actual process is a little more complicated, and involves the formation of two intermediary daughter cells, and four Haploid cells. The result is effectively the same the same however.
The Haploid Cells produced are Genetically Different from each other. These cells are referred to as Gametes, and are involved in Sexual reproduction.
One Gamete from each parent comes together to form a cell that contains half the Genetic Information of each parent. This cell is called a Zygote.
Cell Specialisation and Organism Organisation
Multicellular organisms contain a wide range of different cells. Every cell is specialised to perform its function as best as possible. There are many differences between different cells specialised for different functions. Cells may have different shapes, different contents or different numbers of an organelle.
In order for a cell to become specialised, a process called Differentiation occurs, where unspecialised cells (called Stem Cells) produce cells with specialised structures.
All multicellular organisms contain some form of Stem Cells. These are the cells that divide to replace damaged or old tissue, or new cells for growth.
In plants, Stem Cells are found in Meristematic Tissue. New cells are continuously being produced since the plant continues to grow throughout its lifetime.
In humans, early embryos consist of Stem Cells that can produce any type of cell. These cells are described as Totipotent. Stem Cells are also found in a few places in adults, but these can only differentiate into a limited number of types of cell and are called Multipotent.
Organisation
Cells that work together to perform a particular function are organised into Tissues. Examples of Tissues include Xylem Tissue, Ciliated Epithelial Tissue and Parenchyma Tissue.
In animals, Tissues are grouped into four main categories:

Epithelial Tissue – Linings and layers
Connective Tissue – Holding structures together
Muscle Tissue – Actuation of movement
Nervous Tissue – Communication via electrical signals.
Tissues that work together to perform a larger function are organised into Organs. Examples include Leaves, the Heart and Kidneys.
Organs may be further organised into Organ Systems, that carry out an overall function. For example, the Circulatory System, the Nervous System, and the Reproductive System.
Examples of Cell Specialisation and Organisation
Blood Cells
All blood cells begin as unspecialised Stem Cells in the bone marrow, which then differentiate through various paths to become specialised cells, such as Erythrocytes and Neutrophils.
Erythrocytes, commonly known as Red Blood Cells, carry oxygen from the lungs to respiring tissues. There are specialised in several ways for their function. They contain large amounts of Haemoglobin, that holds oxygen, and many of the organelles (including the nucleus) present in normal cells are not present in Erythrocytes, to make space for more Haemoglobin. Their shape is biconcave, which maximises surface area, and so the speed of movement of Oxygen into and out of the cell.
Neutrophils are a type of White Blood Cell that ingests and destroys invading microorganisms. They have large amounts of Lysosomes, which contain enzymes that kill ingested cells. This makes their Cytoplasm appear Granular. They also have a Lobed Nucleus, which allows for greater flexibility.
Epithelial Tissue
Epithelial Tissue is made up of Epithelial Cells cover external and internal surfaces in an animal. Different Types of Epithelial Cells exist, for example, Squamous Epithelial Cells and Ciliated Epithelial Cells.
Squamous Epithelial Cells make up Squamous Epithelial Tissue. They are flat cells that form a single thin, smooth layer that lines tubes where diffusion occurs. They occur, for example, in Alveoli and some blood vessels. They are held in place by a Basement Membrane. This is composed of Collagen and Glycoproteins, secreted by Epithelial Cells, that binds them to Connective Tissue.
Ciliated Epithelial Cells are column shaped cells, that cover many surfaces. They have tiny projections on their exposed surface, called Cilia, which beat in a synchronised pattern to move Mucus, produced by Goblet Cells, along the surface. They can be found, for example, in the Trachea, the Uterus and the Bronchi.
Spermatozoon
Spermatozoon are motile Sperm Cells. They are the male sex cell involved in sexual reproduction. They travel toward the female's Egg and attempt to fertilize it to produce a Totipotent Zygote.
Sperm Cells are specialised in a number of ways. They have an Undulipodium (tail) which moves by energy generated by many mitochondria and propels the cell. The head of the cell contains an Acrosome, which is a specialised Lysosome that releases enzymes so that the Sperm Cell can penetrate the Ovum Coat of the Egg. Sperm Cells are also very small and thin, which aids their movement.
Root Hair Cells
Root Hair Cells are found in the roots of plants. Their role is to absorb water and minerals in the soil. They have a large surface area, due to their hair-like projections, which eases uptake. They also have a large amount of Mitochondria, which provide more energy for Active Transport.
Xylem and Phloem
Xylem and Phloem are the transport tissues of plants. Xylem transports water and minerals up the plant, and Phloem carry sugars up and down the plant.
Both are found in Vascular Bundles. These consist of Xylem and Phloem Tissue, separated by Meristematic Tissue (undifferentiated cells) called the Cambium. The cells in the Cambium differentiate to produce new Xylem and Phloem Cells.
Xylem Tissue consists of Xylem Vessels and Parenchyma Cells. Xylem Vessels are made of dead cells that have become elongated and reinforced and waterproofed with deposits of Lignin. The dead cells also do no have any ends, so that successive cells form a tubes with wide Lumen. Xylem transports water up the plant can helps to support it.
Phloem Tissue is made up of Sieve Tubes and Companion Cells. Sieve tubes line up and their ends form Sieve Plates through which substances can move. Companion Cells lie next to Sieve Tube Cells and allow them to stay alive.
Photosynthesis in Leaves
Leaves are the main Organs in which Photosynthesis occurs. Several Tissues and Cells are specialised to work together to maximise the rate of Photosynthesis.
The Upper Epidermis of the leaf is transparent and lets light through to the Palisade Layer beneath. The Palisade Layer consists of long, thin Palisade Mesophyll Cells. They are specialised for carrying out Photosynthesis since they contain large amounts of Chlorophyll, and their long shape maximises light absorption.
The layer of Spongy Mesophyll beneath has many air spaces to maximise gas circulation. Veins also run through the leaf which contain Xylem and Phloem Tissue. These transport the water to Photosynthesising cells and transport the products of Photosynthesis to other parts of the plant.
The Lower Epidermis of the leaf contains Pores known as Stomata, which allow the movement of gases in and out of the leaf. A Stoma is made from two Guard Cells. These have spiral thickenings of Cellulose which mean that when the Cells are Turgid, the Stoma opens, and when they are Flaccid, the Stoma closes.


Exchange and Transport
1)Exchange Surfaces
All living cells need to be able to take up and excrete substances from and to their environment.
Cells need:

Water for many different things
Minerals for many different things
Oxygen for respiration
Glucose for energy
Fats for membranes
Proteins for growth and repair
Specialised cells in multicellular organisms may also need to take up other molecules.
Many of these substances can be produced inside the cytoplasm as part of metabolism, but the basic building blocks must still be taken up from the environment.
Cells may need to excrete:

Carbon Dioxide
Oxygen
Ammonia
Again, specialised cells in multicellular organisms may also need to excrete special molecules.
Single-celled organisms can exchange all the substances they need to via their outer surfaces; however, most multicellular organisms require special Exchange Surfaces.
This is because single-celled creatures have a very high surface-area-to-volume ratio, so have lots of available surface to exchange substances. Multi-celled creatures on the other hand tend to have a low surface-area-to-volume ratio, meaning their outer surfaces cannot exchange substances fast enough for all their cells.
Exchange surfaces have a number of adaptations to make them efficient:

Thin barriers to minimise the diffusion distance
A high concentration gradient to the substance
A large surface area
Exchange surfaces are found in abundance in nature. For example:


The Nephron in the Kidney
The Lungs
Most mammalian lungs have the same basic structure. The Trachea (windpipe) leads from the mouth and nose and splits into the Bronchi which in turn split into the Bronchioles which lead to the Alveoli (air sacs) where gaseous exchange occurs.
These form a pair of inflatable structures, the Lungs, supported by the ribs and the Diaphragm which allow the animal to Inspire and Expire.
Inspiration and Expiration
Inspiration (inhaling) and expiration (exhaling) are the processes by which the lungs take air from the environment, and put waste gases back into the environment. The processes are controlled by the diaphragm and the Intercostal Muscles (which run between the ribs).
During inspiration, the diaphragm contracts and pushes down the digestive organs beneath it. The external intercostal muscles also contract, pushing the ribs up and out. This increases the volume of the lungs, so that they have a lower air pressure than outside the body, causing air to rush in.
During expiration, the diaphragm relaxes and is pushed up by the displaced digestive organs. The external intercostal muscles relax, allowing the ribs to fall. This decreases the volume of the ribs which means that they have a higher air pressure than the outside, causing air to rush out.
Gaseous Exchange
The body needs Oxygen for respiration, and must excrete Carbon Dioxide. The exchange of these gases occurs in the alveoli.
The alveoli are small sacs, surrounded by capillaries, which are adapted for efficient gaseous exchange. Oxygen diffuses from the alveoli to the blood in the capillaries, and Carbon Dioxide diffuses from the capillaries to the alveoli.
Though each alveolus is small, the total surface area of all the alveoli in the lungs is large (about 70m2 in humans). This helps to increase the rate of gaseous exchange.
The walls of the alveoli are only one cell thick; those cells (and the cells making up the walls of the capillaries) are specialised Squamous Cells: they are very thin. The capillaries are also very close to the walls of the alveoli. These factors decrease the diffusion distance, and hence increase the rate of gaseous exchange.
In order to maintain a steep diffusion gradient, air must be removed from the alveoli, and blood must removed from the capillaries surrounding them. This is done by expiration and by the action of the heart pumping blood around the body.
Another adaptation to the task of efficient gaseous exchange is that the capillaries surrounding the alveoli are so thin that only one red blood cell may pass through at a time. This slows down the blood cells, meaning that more exchange of gases can occur, and it also pushes them closer to the walls of the capillaries, decreasing the diffusion distance.
The Structure of the Lungs
The trachea, bronchi, and bronchioles are well adapted to their tasks. They are composed of different tissues, each of which performs a different function.
The Trachea and Bronchi
The trachea and bronchi have very similar structures, their main difference is size.
The outer layer is made of Cartilage. This is relatively rigid (more than muscle, less than bone) and supports the trachea and bronchi, preventing them from collapsing when the air pressure inside them is low after expiration. The cartilage does not form a complete ring. This allows some flexibility, for example allowing the Oesophagus to expand when swallowing food.
The next layer is composed of Glandular and Connective Tissues, Smooth Muscle, Elastic Fibres and blood vessels.
The smooth muscle allows the Lumen (the inside space) to constrict, by contracting. This is useful if there are harmful substances in the air, as is minimises the amount of the substances that can be breathed in.
The elastic fibres allow the lumen to Dilate (widen) after the smooth muscle has contracted and then relaxed.
Finally, the inner lining of the trachea and bronchi is a layer of Ciliated Epithelium containing Goblet Cells. Ciliated epithelium consists of cells with Cilia. The glandular tissue and goblet cells secrete Mucus, which is then wafted up the airways by the cilia which move in a synchronised pattern. The mucus traps harmful substances and organisms, preventing them from entering the lungs.
The Bronchioles
The Bronchioles tend to be narrower and have less cartilage than the trachea and bronchi. Their walls are mainly made up of smooth muscle and elastic fibres, though they still have a lining of ciliated epithelium.
2)Transport in Animals
Circulatory Systems
The Need for a Transport System
Very small animals (like flatworms) don't require a special transport system because they can get the substances they need and excrete the substances don't by diffusion alone.
However, for larger animals this is not sufficient. Larger animals require a variety of different tissues to support them. This means that they have a bigger size, so substances take longer to diffuse to an from their internal tissues; also they have a smaller surface-area-to-volume ratio, so substances can't diffuse fast enough.
In addition, animals that are more active use substances like food and Oxygen more quickly, and also produce waste products faster, hence there is again an increased need for a special transport system.
Single and Double Circulatory Systems
The animal transport system consists of:

A fluid medium to transport substances (the Blood)
A pump to push the fluid around the body
Specialised exchange surfaces

Most transport systems also contain tubes (Blood Vessels) to hold the blood.
This is the Circulatory System, which is a very efficient transport system.
There are two types of circulatory system:

A Single Circulatory System is a simple loop in which blood flows: Heart > Gills > Body > Heart
A Double Circulatory System is a double loop in which blood flows: Heart > Lungs > Heart > Body > Heart
Fish have a single circulatory system, while mammals have a double circulatory system.
In a double circulatory system, the loop that goes to the lungs is called the Pulmonary Circuit, while the loop that goes to the body is called the Systemic Circuit.
The double circulatory system is advantageous for active animals since, while in the single circulatory system the blood pressure is limited by the delicate nature of the tiny capillaries in the gills, in the double circulatory system the blood pressure can be high in the systemic circuit while remaining low and safe in the pulmonary circuit. This allows animals with a double circulatory system to be more active, since blood can reach their respiring tissues faster due to the higher pressure.
Fish are not as active as other animals, so their single circulatory system is sufficient for their needs, while more active animals like mammals need a double circulatory system.
The Mammalian Heart
The Heart is the organ that controls the circulatory system in mammals (and other animals). It pumps blood around the body. Mammals have a double circulatory system, so the heart must pump blood to the lung and to the rest of body simultaneously.
The Structure of the Heart
On the outside, the heart mainly consists of a dark red muscle. It is attached to four very important blood vessels: the Vena Cava, the Pulmonary Artery, the Pulmonary Vein and the Aorta.
Internally, the heart is made up of four main cavities: two Atria (singular: atrium) and two Ventricles. The atria hold blood briefly, then allow it to fall into the ventricles, which provide the actual 'pump'.
The vena cava supplies de-oxygenated blood from the body, which then flows into the right atrium then the right ventricle. This gets pumped through the pulmonary artery to the lungs where it gets oxygenated, before returning to the heart via the pulmonary vein. This flows through the left atrium into the left ventricle, and then gets pumped to the body via the aorta. It finally returns to the heart through the vena cava, and the process repeats. This is happening inside you right now, about once a second!
The atria are separated from the ventricles by Atrioventricular Valves (specifically called Tricuspid Valves – right; and Bicuspid/Mitral Valves – left). These valves allow blood to flow downwards when the atria and ventricles relax, but close to prevent blood from flowing back up to the atria when the ventricles are contracting.
The ventricles are separated from the aorta and the pulmonary artery by the Semilunar Valves (specifically called, respectively, the Aortic and Pulmonary Valves). These prevent blood from flowing in the wrong direction back into the heart.
The atrial walls are thin; they don't need to withstand much pressure. The ventricles walls on the other hand are much thicker. When the ventricles contract, the blood pressure inside becomes very high, and they need to be able to withstand this.
Also, the walls of the left ventricle are thicker than those of the right ventricle. This is because the left side of the heart controls the systemic circuit (blood to the whole body) while the right side controls the pulmonary circuit (blood to the lungs).
Blood in the systemic circuit needs to be at a high pressure in order to make its way around the whole body and back again. In contrast, the lungs are very close to the heart, and contain very delicate capillaries which would break if subjected to too great a pressure. Hence the systemic circuit requires a greater blood pressure than the pulmonary circuit, and thus the walls of the left ventricle must be thicker than those of the right ventricle.
The Cardiac Cycle
The cycle of the beating of the heart consists of three main phases: Diastole, Atrial Systole and Ventricular Systole. The heart cycles through each of those phases in order.
Diastole
During this phase, the heart is filled with blood. The atria and ventricles are relaxing, and blood flows from the major veins (the vena cava and the pulmonary veins) into the atria, then into the ventricles via the open atrioventricular valves.
The atrioventricular valves are open because the pressure in the atria is greater than that in the ventricles. The semilunar valves, on the other hand, are closed because the pressure in the ventricles is lower than that in the main arteries leading from the heart.
Atrial Systole
This is the beginning of the muscle contraction. The atria contract, which pushes more blood into the ventricles.
Ventricular Systole
During this phase, the ventricles contract, increasing the ventricular pressure. Blood pushes against the atrioventricular valves, since the pressure in the ventricles is now greater than that in the atria, causing them to snap shut, which prevents blood from flowing back into the atria. This snapping shut the the audible 'lub' in the familiar 'lub-dub' sound of the heart.
The pressure in the ventricles continues to increase until it is greater than that in the main arteries leading from the heart. At this point, the semilunar valves are forced open, and blood rushes out of the ventricles out of the heart into the arteries.
After the ventricles have finished contracting, the muscles relax, and are pulled back by elastic tissue. This decreases the pressure in the ventricles, causing the semilunar valves to shut (the 'dub' in the 'lub-dub' of the heart) and the atrioventricular valves to open, so that the diastole phase can proceed once more.
Coordination in the Cardiac Cycle
There is a need to control and coordinate the cardiac cycle described above. The heart rate needs to change to respond to various factors, such as increased physical activity. Also, the atria and the ventricles have different natural frequencies of contraction. If the contractions where uncoordinated, the atria and the ventricles would contract asynchronously, which would lead to inefficient pumping.
Heart muscle is Myogenic: it initiates its own contraction. This unusual property means that the heart is able to beat even when not connected to the body.
The Process of a Heartbeat
A heartbeat begins in a region of tissue known as the Sinoatrial Node. This is located above the right atrium. It generates electrical pulses in a regular fashion, which then spread throughout the heart.
Once an electrical excitation has been generated by the sinoatrial node, it spreads throughout the atrial muscles, which then contact as part of atrial systole.
The wave of excitation is stopped however by a non-conducting disc of tissue at the base of the atria. This prevents the wave from causing the ventricles to contract too early. The only path to the ventricles is through another node called the Atrioventricular Node.
At the atrioventricular node, the electrical pulse is delayed to allow the atria to fully contract. Then the wave travels down the inter-ventricular wall through special conducting tissue known as the Purkyne, towards the apex (base) and the ventricular muscles.
As the wave reaches the muscles, it initiates the contraction. The wave then moves up the ventricles from the apex causing further contraction. In this manner the contraction of the ventricles starts at the bottom and moves upwards, so that blood is forced upwards into the arteries during ventricular systole.
Electrocardiograms
An Electrocardiogram (ECG) is a device that measures the electrical activity of the heart. It consists of several sensors placed around the body connected to a monitor. The sensors detect the electrical signals that spread from the heart through the body to the skin.
The ECG produces a trace of the electrical activity. The trace of a healthyperson has what's know as a 'PQRST shape'. Its waveforms consist of regions labelled by the letters P, Q, R, S and T.
The wave labelled 'P' corresponds to the excitation and contraction of the atria during atrial systole. The 'QRS' comlpex corresponds to the excitation and contraction of the ventricles during ventricular systole. Finally, the 'T' wave corresponds the diastole phase.
Biological Molecules
1)Biological Molecules
Monosaccharides
Monosaccharides are the monomers of Carbohydrates. Carbohydrates make up about 1/10 of the organic matter in a cell, their functions include:

Energy Sourceage – They provide the enegry for respiration
Energy Storage – They store energy
Structure – For example Cellulose

They contain the elements Carbon, Hydrogen and Oxygen in the proportions Cn(H2O)n.
Monosaccharides come in many different forms, ranging from three to six carbon atoms. They all: are soluble in water, are sweet tasting and form crystals. They are grouped according to the number of Carbon atoms, being called triose, tetrose, pentose or hexose sugars, the most common being hexose sugars. Pentose and hexose sugars tend to form ring structures.
When Glucose forms a ring structure, it can do so in two different ways. If the OH at C1 is below the plane of the ring, it is called an α Glucose, if the OH at C1 is above the plane of the ring, it is called β Glucose. This difference in structure leads to a difference in properties.
Monosaccharides can be bonded together (for example, to produce a disaccharide, or maybe even a polysaccharide, like Starch) with a Condensation Reaction, forming a Glycosidic Bond. This bond can be broken by Hydrolysis. The bond is named after the Carbon atoms that are involved in the bond, for example, the bond between two Glucose molecules in Amylose is called a (1→4) Glycosidic Bond, as the bond is between C1 of one monomer and C4 of another.
Carbohydrate Polymers
Carbohydrates are used in many different ways in an organism. Here polymers of Glucose that are involved in storage and structure are explored.
Energy Storage
Glucose units contain a lot of bonds that can be broken down to release energy during respiration to create ATP. The breakdown occurs in a series of steps which are driven by shape-specific Enzymes. In plants and animals, only α glucose can be broken down in respiration as only the enzymes which fit its shape are present.
α Glucose can form long chains with thousands of subunits called and Amylose molecule. Glucose units are bonded together by Condensation Reactions forming (1→4) Glycosidic Bonds. Amylose molecules tend to form coiled springs due to the way in which the the glucose units bond, making it quite compact. Large molecules such as amylose differ from glucose in that they are not water soluable.
Iodine molecules can become trapped within the 'coils' of the Amylose chain, which causes iodine (in Potassium Iodide solution) to change colour from yellow-brown to blue-black.
Starch consists of a mixture of Amylose and a branched carbohydrate chain called Amylopectin. The branches are formed when a one end of a chain joins with a glucose in another, forming a (1→4) Glycosidic Bond.
Glycogen is almost identical to starch but differs in that the chains of (1→4) linked glucoses are shorter, giving it a more highly branched structure. This branching allows for the fast breakdown of the molecule during respiration as it means that there are more ends which enzymes can start the proccess of hydrolysis from.
Engergy storage molecules like Starch and Glycogen:

are insoluble in water and so do not affect the water potential of cells.
store glucose molecules in chains so that they can esily be 'broken off' and used in respiration.
Structural
β Glucose chains, like the one above, are called Cellulose molecules, and can contain 10000 glucose units. They are stronger than Amylose and are only found in plants. Cellulose is the most abundant polysaccharide found in nature.
Cellulose fibres are arranged in a very specific way and can be described as being like a fractal. Long Cellulose chains bunch together, held by Hydrogen bonds, to form Microfibrils. These Microfibrils are bunched with other Microfibrils, held by more Hydrogen bonds, to form Macrofibrils.
Macrofibrils have a very high mechanical strength, similar to that of steel. In plant cell walls, they criss-cross over each, forming a cross-hatched structure, held by Hydrogen bonds, which is very strong. This also allows water to move though and along the cell wall. The strength of the cell walls prevent the cell form bursting, as it would in an animal cell, when water passes into the cell. The pressure cause by the water makes the cell Turgid, supporting the plant through Turgor Pressure.
Microfibrils can have special roles. For example, in Guard Cell Walls, the arrangement of microfibrils allows the Stomata to open and close. Cell walls can also be reinforced with other substances, or made waterproof.
Other Carbohydrate Polymers are used by a number of other organisms to provide support, such as Peptidoglycan, which forms the basis of bacterial cell walls, and Chitin, which makes up the exoskeleton of insects.
Comparing Cellulose and Amylose
Cellulose and Amylose can be compared in terms of their structure and function.
Both Cellulose and Amylose consist of Polypeptide Chains of Glucose bonded together with Glycosidic Bonds. Both molecules are insoluble in water. However, Cellulose is composed of β Glucose and forms long straight chains, in which every other Glucose monomer flipped over and are very strong, whereas Amylose is composed of α Glucose, forms a coiled chain and tends to be found in granules.
Because of their structure, Cellulose and Amylose have very different functions. Amylose is used as an energy storage in starch, whereas Cellulose plays a structural role.
Lipids
Lipids are made of the elements Carbon , Hydrogen and Oxygen, although they have a much lower proportion of water than other molecules such as Carbohydrates. They are insoluable in water
Lipids perform many functions, such as:

Energy Storage
Making Biological Membranes
Insulation
Protection – e.g. protecting plant leaves from drying up
Boyancy
Acting as hormones
They are made from two molecules: Glycerol and Fatty Acids.
A Glycerol molecule is made up from three Carbon atoms with a Hydroxyl Group attached to it and Hydrogen atoms occupying the remaining positions.
Fatty Acids
Fatty acids consist of an Acid Group at one end of the molecule and a Hydrocarbon Chain, which is usually denoted by the letter 'R'.
Fatty acids may be saturated or unsaturated. A fatty acid is saturated if every possible bond is made with a Hydrogen atom, such that there exist no C=C bonds. Saturated fatty acids on the other hand do contain C=C bonds. Obviously monounsaturated fatty acids have one C=C bond, and polyunsaturated have more than one C=C bond.
If fatty acids are unsaturated, their shape is altered from a saturated molecule so the molecules in the Lipid push apart, thus making it more fluid and oily.
Animals tend to have more saturated, and consequently solid at room temperature lipids whereas plants tend to have more unsaturated and so fluid at room temperature lipids.
Triglycerides
Triglycerides are lipids consisting of one glycerol molecule bonded with three fatty acid molecules. The bonds between the molecules are covalent and are called Ester bonds. They are formed during a condensation reaction.
Triglycerides are hydrophobic and so insoluble in water. The charges are evenly distributed around the molecule so hydrogen bonds to not form with water molecules.
Phospholipids
Phospholipids are similar to triglycerides in they consist of a glycerol 'backbone' and fatty acid 'tails', however, the third fatty acid has been replaced by a phosphate group 'head'.
While the fatty acid 'tails' are hydrophobic, the phosphate 'head' is hydrophilic. This means the phosphate group will orientate itself towards water and away from the rest of the molecule, and also gives rise to the special properties that allow phospholipids to be used to form membranes.
Phospholipids can contain saturated and unsaturated fatty acids. This allows for the control of the fluidity of membranes, which is useful, for example, in maintaining membrane fluidity at low temperatures.
Amino Acids
Proteins are polymers. The monomers of proteins are amino acids.
All proteins have the same basic structure. They consist of an Amino Group at one end, an Acid Group at the other end, and a Carbon in the middle which bonds with a Hydrogen atom and an 'R' group, which is specific to individual amino acids.
There are 20 naturally occurring 'R' groups, which corresponds to 20 different amino acids. Each different amino acid has a specific name. For example, Alanine's 'R' group consists of CH3.
Plants make all the amino acids they need themselves, as long as they can obtain Nitrate from the soil, which is then converted to amino groups and bonded to the products of photosynthesis.
Animals on the other hand cannot make amino acids themselves and so must take in proteins as part of their diet. These proteins are then broken down into amino acids that can form other proteins. However, some amino acids cannot be built from materials brought into the bodies of animals. These are called Essential Amino Acids, and must be eaten directly as part of the diet. Most of these can be found in meat.
Amino acids are toxic and as they cannot be stored, they must be excreted from the body in a process called deamination. In animals, this occurs in the liver, where amino acids are converted to urea and pass out in the urine.
Peptide Bonds
Amino acids can be joined together, forming Peptide Bonds. All amino acids are joined in exactly the same way. A Condensation reaction forms a covalent bond between the monomers, between the amino group of one and the acid group of another. When two amino acids are joined together in this way, a dipeptide molecule is formed.
Protien Structure
Primary Structure
Proteins are made up of polypeptide chains, which are amino acids joined together with peptide bonds. The unique sequence of amino acids that make up a protein or polypeptide chain is called the Primary Structure.
Primary Structure: The unique sequence of amino acids that makes up a protein or polypeptide chain.
Peptide bonds are created by enzyme catalysed condensation reactions and broken down by enzyme catalysed hydrolysis reactions. Breaking down proteins is important in many areas of the body, not merely in digestion. For example, in hormone regulation, cells that are targeted by hormones contain enzymes to break down those hormones. This stops their effects from being permanent and allows them to be controlled.
Secondary Structure
After synthesis, polypeptide chains are folded or pleated into different shapes, called their Secondary Structure. Two common examples of secondary structures are Alpha Helices and Beta Pleated Sheets. Secondary structure is held together by many Hydrogen bonds, overall giving the shape great stability.
Secondary Structure: The way in which the primary structure of a polypeptide chain folds.

Tertiary Structure
The final 3D structure of a protein is its Tertiary Structure, which pertains to the shaping of the secondary structure. This may involve coiling or pleating, often with straight chains of amino acids in between.
Tertiary Structure: The final 3D structure of a protein, entailing the shaping of a secondary structure.
Tertiary structure is held together by four different bonds and interactions:

Disulphide Bonds – Where two Cysteine amino acids are found together, a strong double bond (S=S) is formed between the Sulphur atoms within the Cysteine monomers.
Ionic Bonds – If two oppositely charged 'R' groups (+ve and -ve) are found close to each other, and ionic bond forms between them.
Hydrogen Bonds – Your typical everyday Hydrogen bonds.
Hydrophobic and Hydrophilic Interactions – Some amino acids may be hydrophobic while others are hydrophilic. In a water based environment, a globular protein will orientate itself such that it's hydrophobic parts are towards its centre and its hydrophilic parts are towards its edges
Tertiary structure can be broken by the action of heat. Increasing the kinetic energy of protein with a tertiary structure makes it vibrate more, and so the bonds that maintain its shape (which are mainly weak, non-covalent bonds) will be more likely to break. When a protein loses its shape in this way it is said to be Denatured. Even when cool the protein will not (or is highly unlikely to) form its original complex shape.
Proteins with a 3D structure fall into two main types:

Globular – These tend to form ball-like structures where hydrophobic parts are towards the centre and hydrophilic are towards the edges, which makes them water soluble. They usually have metabolic roles, for example: enzymes in all organisms, plasma proteins and antibodies in mammals.
Fibrous – They proteins form long fibres and mostly consist of repeated sequences of amino acids which are insoluble in water. They usually have structural roles, such as: Collagen in bone and cartilage, Keratin in fingernails and hair.
Quaternary Structure
Some proteins are made up of multiple polypeptide chains, sometimes with an inorganic component (for example, a haem group in haemoglogin) called a Prosthetic Group. These proteins will only be able to function if all subunits are present.
Quaternary Structure: The structure formed when two or more polypeptide chains join together, sometimes with an inorganic component, to form a protein.

Haemoglobin and Collagen
Haemoglobin is a water soluble globular protein which is composed of two α polypeptide chains, two β polypeptide chains and an inorganic prosthetic haem group. Its function is to carry oxygen around in the blood, and it is facilitated in doing so by the presence of the haem group which contains a Fe2+ ion, onto which the oxygen molecules can bind.
Collagen is a fibrous protein consisting of three polypeptide chains wound around each other. Each of the three chains is a coil itself. Hydrogen bonds form between these coils, which are around 1000 amino acids in length, which gives the structure strength. This is important given collagen's role, as structural protein. This strength is increased by the fact that collagen molecules form further chains with other collagen molecules and form Covalent Cross Links with each other, which are staggered along the molecules to further increase stability. Collagen molecules wrapped around each other form Collagen Fibrils which themselves form Collagen Fibres.
Collagen has many functions:

Form the structure of bones
Makes up cartilage and connective tissue
Prevents blood that is being pumped at high pressure from bursting the walls of arteries
Is the main component of tendons, which connect skeletal muscles to bones
Haemoglobin may be compared with Collagen as such:

Basic Shape – Haemoglobin is globular while Collagen is fibrous
Solubility – Haemoglobin is soluble in water while Collagen is insoluble
Amino Acid Constituents – Haemoglobin contains a wide range of amino acids while Collagen has 35% of it primary structure made up of Glycine
Prosthetic Group – Haemoglobin contains a haem prosthetic group while Collagen doesn't possess a prosthetic group
Tertiary Structure – Much of the Haemoglobin molecule is wound into α helices while much of the Collagen molecule is made up of left handed helix structures
Water
Water has many useful properties, and so it is ubiquitous in life on earth. The useful properties of water arise from its structure.
A Water molecule consists of two Hydrogen atoms covalently bonded to an Oxygen atom. Because oxygen is more electronegative than hydrogen, it has a greater pull on the shared electrons. This that the oxygen atom is slightly negative (δ-) (because of the closer electrons), and hydrogen is slightly positive (δ+). Water is therefore called a Polar Molecule.
The slightly negative and slightly positive regions of the water molecule are attracted to charged regions of other molecules, forming Hydrogen Bonds (which are weak in comparison with other chemical bonds). Water will form Hydrogen Bonds within itself.
Hydrogen bonds within water give it a high stability, which means that a large amount of energy is required to raise the temperature of water. This property means that oceans and lakes provide a stable environment in which organisms can live. This also means that a large amount of heat is required to evaporate water, so it is very useful in cooling, for example, some animals sweat to cool down.
As water decreases in temperature, its molecules are less able to break the Hydrogen bonds, as they have less kinetic energy. This means that a semi-crystalline structure is formed, which holds the water molecules apart, making ice less dense than liquid water, such that it floats. This means that it insulates the water beneath, allowing organisms in the liquid water to survive.
Cohesion is the tendency of molecules within a substance to 'stick together'. Water has a high Cohesion because of Hydrogen bonding. This is important as transport of water in the Xylem in plants relies on water being pulled up. Cohesion also gives the water a high surface tension, allowing small organisms, such as Pond Skaters, to walk along it.
Water is good solvent for other polar molecules since it can interact with the charged regions and dissolve the substance. It is also a good solvent for ionic substances, since the water molecules cluster around the ions and separate them, thus dissolving the substance. This property, along with the fact that water is liquid over a wide range of temperatures, makes it ideal for acting as a medium in which metabolic reactions can occur, and also as a transport vehicle.
Water also takes part in some metabolic reactions, for example, in Hydrolysis and Condensation reactions.
2)Nucleic Acids
Nucleotides
Nucleic Acids (DNA and RNA) are polymers and their monomers are Nucleotides. Each nucleotide is composed of

a Pentose Sugar (Deoxyribose in DNA and Ribose in RNA)
an Organic Nitrogenous Base
a Phosphate Group
Nucleotides are joined together by a Condensation Reaction between the Phosphate Group of one and the Sugar Group of another. The bond between the two monomers is called a Phosphodiester Bond. Many nucleotides joined together in this way make a repeating Sugar-Phosphate 'backbone' out of which the organic bases project.
There are five possible organic bases that can form nucleotides, and as two mean the same in terms of genetic code, there are only really four different nucleotides that code for DNA.
The organic bases are grouped into Pyrimidines and Purines. Pyrimidines are smaller as they contain a single ringed structure, whereas Purines are larger as they contain a double ring structure. The Pyrimidines are:

The Purines are:
If one has too much Nucleic Acid, especially in one's extremities, one may develop a condition known as Gout. In the liver, excess Purines are broken down in Uric Acid, which is then excreted in the urine. However, if one's blood contains too much of this Uric Acid, it may form crystals that are deposited in the joints, which can be particularly painful.
The Structure of DNA
DNA (Deoxyribonucleic Acid) is composed of two Polynucleotide Strands (the polymers of nucleotides), which form what looks like a ladder. The Nitrogenous Bases in DNA store the instructions for making polypeptide chains, essentially coding for every feature of the entire organism.
The two polynucleotide strands run 'antiparallel' to each other, with Nitrogenous Bases projecting inwards. The term 'antiparallel' means that the strands run in opposite directions, parallel to one another. The antiparallel strands twist in a complete DNA structure, forming a Double Helix.
The strands are held together by Hydrogen Bonds between the Nitrogenous Bases that are opposite each other. Bases bonded together are termed 'paired', and are very specific as to which Base they will join to. A Purine will only pair with a Pyrimidine. Not only that, but the Adenine Purine will only pair with the Thymine Pyrimidine (A-T), and the Guanine Purine will only pair with the Cytosine Pyrimidine (G-C). These base pairings are termed Complementary Base Pairings.
The reason that Purines will only bond with Pyrimidines is that Purines are larger molecules (composed of a double ring structure), so in order to ensure that the polynucleotide strands are equally spaced apart, the larger Bases must pair with the smaller bases. The root for the specific Complementary Base Pairings is the number of Hydrogen bonding sites available. Adenine and Thymine have two sites each, whereas Guanine and Cytosine have three sites each.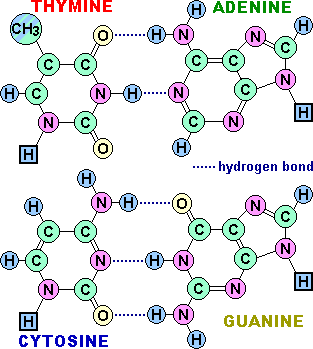 Replication
DNA must be copied when cells divide. This is called Replication. This process takes place during Interphase.
The Double Helix is untwisted and the antiparallel strands are unzipped – the Hydrogen bonds between the bases are broken. Free floating Nucleotides join with the exposed Nitrogenous Bases, forming Hydrogen bonds – this part of the 'reason' for Complementary Base Pairing. The new Nucleotides are bonded together by the enzyme DNA Polymerase, which form complete strands opposite the original strands. The two new DNA molecules form Double Helices.
The new molecules contain one strand of the original an one new strand, and so this type of replication is called Semi-Conservative Replication.
RNA and Protein Synthesis
RNA (Ribonucleic Acid) is a polynucleotide, similar to DNA, one of whose roles is protein synthesis. RNA is structurally different from DNA, in that

It is usually single stranded.
It contains the Nitrogenous Base Uracil instead of Thymine.
Its Nucleotides contain Ribose sugar, as opposed to Deoxyribose sugar.
DNA contains Genes, which code for specific Polypeptide Chains. RNA reads the instructions (Transcription) and assembles the Polypeptide Chain (Translation).
During Transcription, the DNA molecule 'opens up', exposing the gene to be read. Free RNA nucleotides, which are complementary using the base paring rules C-G and A-U (since Uracil is similar to Thymine) bond to the exposed bases on the Template Strand.
The RNA backbone then forms creating an mRNA (messenger RNA) molecule which is identical to the Coding Stand (opposite to the Template Strand). The mRNA then 'peels away' from the DNA strand.
The mRNA strand leaves the nucleus through a nuclear pore and attaches to a Ribosome, which is composed of rRNA (ribosomal RNA).
tRNA (Transfer RNA) carries amino acids. When the tRNA carrying the correct amino acid in the sequence collides with the Ribosome, the amino acid joins with the previous amino acid, forming a Peptide Bond.
This produces a polypeptide chain, whose Primary Structure is dictated by the sequence of bases in the gene. Primary Structure gives rise to Secondary and Tertiary Structures.
3)Enzymes
Enzymes are Biological Catalysts. They increase the rate of Metabolic reactions. Almost all Biological Reactions involve Enzymes. All enzymes are Globular Proteins with a specific Tertiary Shape. They are usually specific to only one reaction.
The part of the Enzyme that acts a Catalyst is called the Active Site. The rest of the Enzyme is much larger and is involved in maintaining the specific shape of of the Enzyme.
When a reaction involving an Enzyme occurs, a Substrate is turned into a Product. The Substrate can be one or more molecules. The Active Site of an Enzyme is Complementary to the Substrate it catalyses.
Some examples of Enzymes are:

Lactase: Breaks down Lactose into Glucose and Galactose.
Catalase: Breaks Hydrogen Peroxide down into Water and Oxygen.
Glycogen Synthase: Catalyses the formation of Glycosidic Bonds between Glucose molecules.
ATP-ase: Breaks down ATP into ADP, producing energy.
Enzymes in the Real World
Since Enzymes are Proteins, which are effected by their environment, organisms that live in varying conditions have adapted by producing Enzymes more suitable to their environments. Endotherms (animals that maintain their body temperature) keep the temperature of the Enzymes within their bodies constant to ensure optimum rates of reaction.
Enzymes are used for a wide variety of purposes, such as in digestion. The action of an Enzyme may be Intracellular (the Enzymes are attached to the cell membrane or are in the Cytoplasm, and reactions occur inside the cell) or Extracellular (Enzymes work outside cells, and their products may be absorbed into the cell)
Enzymes are also used in protection against Pathogens. They can be used to destroy invading Microorgansims. For example, Phagocytes engulf Pathogens and the Endocytosed Vesicle then fuses with Lysosomes which contain enzymes that destroy the Pathogen's cell membrane.
How Enzymes Work
Most reactions in a cell require very high temperatures to get going, which would destroy the cell. Enzymes work by lowering the Activation Energy of a reaction.
The Activation Energy of a reaction is lowered by putting stress on the bonds within a molecule, or by holding molecules close together. This increases the likelihood of a reaction, and so lowers the energy required to begin it.
The Lock-and-key Hypothesis
The Lock-and-key Hypothesis is a model of how Enzymes catalyse Substrate reactions. It states that the shape of the Active Sites of Enzymes are exactly Complementary to the shape of the Substrate.
When a substrate molecule collides with an enzyme whose Active Site shape is complementary, the substrate will fit into the Active Site and an Enzyme-Substrate Complex will form.
The enzyme will catalyse the reaction, and the products, together with the enzyme, will form an Enzyme-Product Complex. According to this model, it is possible for an enzyme to catalyse a reverse reaction.
The Induced-Fit Hypothesis
A more recent model, which is backed up by evidence ,and is widely accepted as describing the way enzymes work, is the Induced-Fit Hypothesis. It states that the shape of Active Sites are not exactly Complementary, but change shape in the presence of a specific substrate to become Complementary.
When a substrate molecule collides with an enzyme, if its composition is specifically correct, the shape of the enzyme's Active Site will change so that the substrate fits into it and an Enzyme-Substrate Complex can form. The reaction is then catalysed and an Enzyme-Product Complex forms.
Factors affecting Enzyme Activity
The activity of an Enzyme is affected by its environmental conditions. Changing these alter the rate of reaction caused by the enzyme. In nature, organisms adjust the conditions of their enzymes to produce an Optimum rate of reaction, where necessary, or they may have enzymes which are adapted to function well in extreme conditions where they live.
Temperature
Increasing temperatureincreases the Kinetic Energy that molecules possess. In a fluid, this means that there are more random collisions between molecules per unit time.
Since enzymes catalyse reactions by randomly colliding with Substrate molecules, increasing temperature increases the rate of reaction, forming more product.
However, increasing temperature also increases the Vibrational Energy that molecules have, specifically in this case enzyme molecules, which puts strain on the bonds that hold them together.
As temperature increases, more bonds, especially the weakerHydrogen and Ionic bonds, will break as a result of this strain. Breaking bonds within the enzyme will cause the Active Site to change shape.
This change in shape means that the Active Site is less Complementary to the shape of the Substrate, so that it is less likely to catalyse the reaction. Eventually, the enzyme will become Denatured and will no longer function.
As temperature increases, more enzymes' molecules' Active Sites' shapes will be less Complementary to the shape of their Substrate, and more enzymes will be Denatured. This will decrease the rate of reaction.
In summary, as temperature increases, initially the rate of reaction will increase, because of increased Kinetic Energy. However, the effect of bond breaking will become greater and greater, and the rate of reaction will begin to decrease.
The temperature at which the maximum rate of reaction occurs is called the enzyme's Optimum Temperature. This is different for different enzymes. Most enzymes in the human body have an Optimum Temperature of around 37.0 °C.
pH – Acidity and Basicity
pH measures the Acidity and Basicity of a solution. It is a measure of the Hydrogen Ion (H+) concentration, and therefore a good indicator of the Hydroxide Ion (OH–) concentration. It ranges from pH1 to pH14. Lower pH values mean higher H+ concentrations and lower OH– concentrations.
Acid solutions have pH values below 7, and Basic solutions (alkalis are bases) have pH values above 7. Deionised water is pH7, which is termed 'neutral'.
H+ and OH– Ions are charged and therefore interfere with Hydrogen and Ionic bonds that hold together an enzyme, since they will be attracted or repelled by the charges created by the bonds. This interference causes a change in shape of the enzyme, and importantly, its Active Site.
Different enzymes have different Optimum pH values. This is the pH value at which the bonds within them are influenced by H+ and OH– Ions in such a way that the shape of their Active Site is the most Complementary to the shape of their Substrate. At the Optimum pH, the rate of reaction is at an optimum.
Any change in pHabove or below the Optimum will quickly cause a decrease in the rate of reaction, since more of the enzyme molecules will have Active Sites whose shapes are not (or at least are less) Complementary to the shape of their Substrate.
Small changes in pH above or below the Optimum do not cause a permanent change to the enzyme, since the bonds can be reformed. However, extreme changes in pH can cause enzymes to Denature and permanently lose their function.
Enzymes in different locations have different Optimum pH values since their environmental conditions may be different. For example, the enzyme Pepsin functions best at around pH2 and is found in the stomach, which contains Hydrochloric Acid (pH2).
Concentration
Changing the Enzyme and Substrateconcentrations affect the rate of reaction of an enzyme-catalysed reaction. Controlling these factors in a cell is one way that an organism regulates its enzyme activity and so its Metabolism.
Changing the concentration of a substanceonly affects the rate of reaction if it is the limiting factor: that is, it the factor that is stopping a reaction from preceding at a higher rate.
If it is the limiting factor, increasing concentration will increase the rate of reaction up to a point, after which any increase will not affect the rate of reaction. This is because it will no longer be the limiting factor and another factor will be limiting the maximum rate of reaction.
As a reaction proceeds, the rate of reaction will decrease, since the Substrate will get used up. The highest rate of reaction, known as the Initial Reaction Rate is the maximum reaction rate for an enzyme in an experimental situation.
Substrate Concentration
Increasing Substrate Concentration increases the rate of reaction. This is because more substrate molecules will be colliding with enzyme molecules, so more product will be formed.
However, after a certain concentration, any increase will have no effect on the rate of reaction, since Substrate Concentration will no longer be the limiting factor. The enzymes will effectively become saturated, and will be working at their maximum possible rate.
Enzyme Concentration
Increasing Enzyme Concentration will increase the rate of reaction, as more enzymes will be colliding with substrate molecules.
However, this too will only have an effect up to a certain concentration, where the Enzyme Concentration is no longer the limiting factor.
Enzyme Inhibitors
Enzyme Inhibitors reduce the rate of an enzyme catalysed reaction by interfering with the enzyme in some way. This effect may be permanent or temporary.
Competitive Enzyme Inhibitors work by preventing the formation of Enzyme-Substrate Complexes because they have a similar shape to the substrate molecule.
This means that they fit into the Active Site, but remain unreacted since they have a different structure to the substrate. Therefore less substrate molecules can bind to the enzymes so the reaction rate is decreased.
Competitive Inhibition is usually temporary, and the Inhibitor eventually leaves the enzyme. This means that the level of inhibition depends on the relative concentrations of substrate and Inhibitor, since they are competing for places in enzyme Active Sites.
Non-competitive Enzyme Inhibitors work not by preventing the formation of Enzyme-Substrate Complexes, but by preventing the formation of Enzyme-Product Complexes. So they prevent the substrate from reacting to form product.
Usually, Non-competitive Inhibitors bind to a site other than the Active Site, called an Allosteric Site. Doing so distorts the 3D Tertiary structure of the enzyme, such that it can no longer catalyse a reaction.
Since they do not compete with substrate molecules, Non-competitive Inhibitors are not affected by substrate concentration.
Many Non-competitive Inhibitors are irreversible and permanent, and effectively denature the enzymes which they inhibit. However, there are a lot of non-permanent and reversible Non-competitive Inhibitors which are vital in controlling Metabolic functions in organisms.
Enzyme Inhibitors by organisms are used in controlling metabolic reactions. This allows product to be produced in very specific amounts.
Enzyme Inhibitors in Metabolic Control
Enzymes vastly increase the rate of a metabolic reaction, often by a factor of 10 million. This fact is essential to all life on earth, but it means that Enzyme activity must be very tightly controlled, since uncontrolled reactions can be fatal.
For example, in the disease 'multiple sclerosis', the immune system starts destroying nerves by allowing destructive Enzymes to attack nerve cells, often resulting in paralysis.
Often a Metabolic Process is composed of many different reactions, each of which is catalysed by a different Enzyme. These are reactions are called Metabolic Pathways. For example, photosynthesis has a Metabolic Pathway.
In many cases, the final product of a Metabolic Pathway acts as a Non-competitive Inhibitor to one of the enzymes earlier along the chain. This means that the Metabolic Process controls itself, since the more product gets produced, the more it inhibits the pathway, and so the slower the process proceeds.
Enzyme Inhibitors as Metabolic Poisons
Many poisons work by inhibiting the action of enzymes involved in Metabolic processes, which disturbs an organism.
For example, Potassium Cyanide is an irreversible Inhibitor of the enzyme Cytochrome C Oxidase, which takes part in respiration reactions in cells. If this enzyme is inhibited, ATP cannot be made since Oxygen use is decreased. This means that cells can only respire Anaerobically, leading to a build up of Lactic Acid in the blood. This is potentially fatal.
The poison Malonate binds to the Active Site of the enzyme Succinate Dehydrogenase competing with Succinate, which is important in respiration.
Enzyme Inhibitors as Medicines
Some Enzyme Inhibitors can be used as Medicines in the treatment of conditions.
For example, infection by viruses can be treated by Inhibitors to the viral enzyme Protease, often competitive Inhibitors. This means that viruses cannot build new protein coats and therefore cannot replicate.
Penicillin works by Inhibiting a bacterial enzyme that is responsible for forming cross-links in bacteria cell walls. This therefore halts reproduction.
Food and Health
Developing Drugs
New drugs to treat people are constantly being developed. This is necessary because new diseases are constantly emerging, and old ones are becoming resistant to currently used drugs because of selection pressure caused by the use of those drugs. There are also still many conditions for which there is no treatment available.
Methods of Developing New Drugs
Drugs may be accidentally discovered, for example when researching another field. It is well known that Alexander Fleming discoved Penicillin accidentally because of keeping an untidy laboratory while investigating the properties of Staphylococci.
Many people (80% of the World's population according to WHO) rely on traditional medicines and drugs. This is especially so in less economically developed countries, where there is less knowledge or less money to use use modern drugs.
Some modern drugs are derived from traditionally used ones. For example, Hippocrates used an extract from willow bark to relieve pain, and a similar extract has been used in Britain since the Middle Ages. The active ingredient was later isolated and is now used in Aspirin.
Drugs can be discovered and developed by observing wildlife. Many animals use drugs to protect them from diseases. For example, some birds line their nests with medicinal leaves to protect their young, and some furred animals use citrus oils as insecticides and antiseptics.
A lot of modern drugs have been developed by looking at plants, especially tropical plants because of their great diversity. chemical fingerprinting technology is being used to more effectively screen chemicals for their natural medicinal properties.
Much of recent research has concetrated on looking at Genetics. For example, biologists have been researching how Streptomyces, the main source of new drugs in the past 50 years, codes for the drugs it produces.
Biologists also look at how pathogenic microorganisms interact with human cells. By looking the Cell Receptor Sites used by a specific pathogen, for example by looking at the sequence of amino acids that produces it, drugs can be developed that block that Receptor Site.
Genetics may be of further help in comaring the Human Genome with that of a plant, for example. In doing so, new drug to help humans may be developed.
Biodiversity and Evolution
Bio diversity coming soon